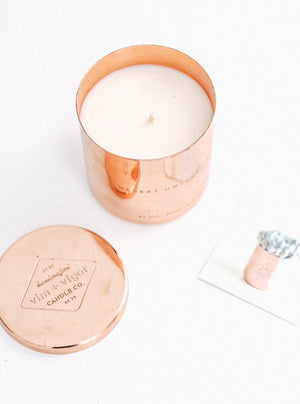 Prickly Pear + Dew Candle
Sale price Price $40.00 Regular price Unit price / per
We partnered with local candlemaker Vim & Vigor Candle Co. to bring you this cool, crisp and slightly sweet scented candle in a gorgeous, engraved copper vessel. With notes of freshly picked prickly pear fruit + green leaves covered in morning dew, this refreshing scent is sure to brighten up the ambience of any space! 


Details:
Infused with a blend of fine fragrance oils + pure essential oils

Notes | Prickly pear fruit,  greenery, hints of honey

Approximately 8 oz.

100% natural soy wax 

Handcrafted and poured in Phoenix, Arizona
This isn't just a candle. It is a direct investment in water conservation initiatives in Arizona and beyond.
At Desert Dweller Co., we are dedicated to protecting the earth's vital natural resources by providing ongoing education and water conservation technologies for communities in need.
Ten percent of your purchase will directly support the installation of SOURCE™ hydropanels in Arizona. We are proud to partner with SOURCE™ in the mission to provide sustainable, off-grid, and self-contained drinking water systems in our arid environment.